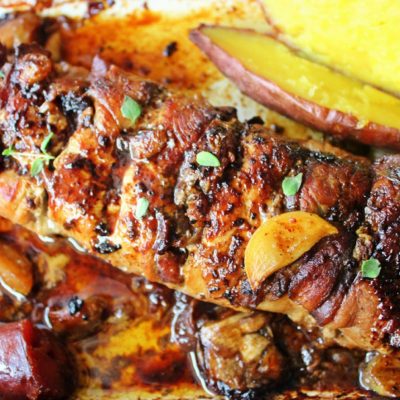 Roasted Pork Tenderloins with Sweet Potato
Ingredients
1 kg of pork tenderloin

Chorizo, half

100 ml of olive oil

100 ml of white wine

4 garlic cloves, large, minced

1 cube of beef stock

1 tablespoon of margarine

Salt
Preparation
Roast the potatoes with coarse salt in the oven at 180 ºC for 45 minutes.

Season the tenderloin with salt, make small incisions across its length and put thin slices of chorizo into the holes.

In a pan, melt one tablespoon of margarine and fry the tenderloin for a couple of minutes on each side to brown the meat. Then, put the tenderloin in a roasting tray and add the olive oil and beef stock cube.

Pour the white wine in the pan you used to fry the tenderloin and, over low heat, scrape the bottom of the pan with a wooden spoon to release the flavours.

Pour this sauce into the tray. Pre-heat the oven at 180 ºC and roast the tenderloin for 30 minutes.

Serve with roasted potatoes.