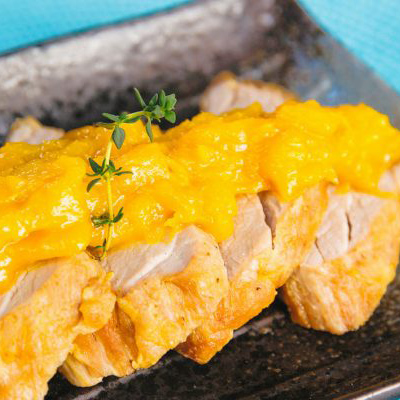 Pork Tenderloin with Mango Chutney
Ingredients
1 / 2 kg of pork tenderloin (1 piece)

3 garlic cloves, minced

Juice of 1 lemon

Salt and pepper to taste

4 tablespoons of oil

2 onions, sliced

3 cups of water
For the mango chutney
1 cup of sugar

3 tablespoons of vinegar

2 cups of water

2 mangos, diced

1/2 chilli pepper, minced (optional)
Preparation
In a bowl, season the tenderloin with the garlic, lemon juice, salt, and pepper.

Let in rest in the fridge for at least 2 hours. In a pressure cooker, heat the oil over medium heat and fry the tenderloin until golden brown. Set aside.

Add the onions and braise them well. Put the tenderloin back into the cooker and add water.

Put the lid on and let it cook for 30 minutes after the cooker builds pressure. Then, wait for the cooker to decompress and open the cooker carefully. Slice the tenderloin and set aside.

For the chutney, add the sugar, vinegar and half the water to a small pan and cook over medium heat until they form a thin syrup. Add the mango, chilli pepper (if you like), and the remaining water and stir well. Take the pan off the heat.

Cover the slices tenderloin with the chutney and serve.