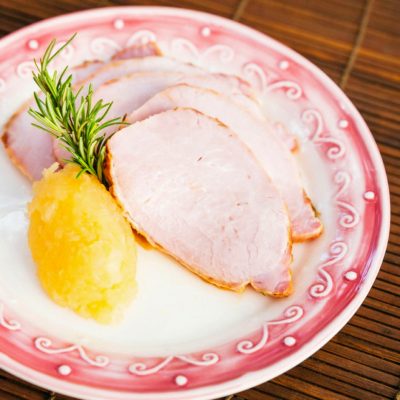 Pork Tenderloin with Apple Purée
Ingredients
1 kg of pork tenderloin

Juice of 1 lemon

Olive oil to taste

Salt and pepper to taste

2 garlic cloves, minced

2 bay leaves

1 branch of rosemary
For the Apple Purée
4 apples, skinless, grated

3 tablespoons of sugar

1/2 cup of dry white wine

2 cloves

1 cinnamon stick
Preparation
In a bowl, season the tenderloin with the lemon juice, bay, rosemary, garlic, salt, pepper, and a drizzle of olive oil.

Let in rest in the fridge for at least 2 hours

Then, roast the tenderloin in a tray in the oven for 40 minutes. Slice the tenderloin thinly. Set aside.

For the purée, cook the apples, sugar, wine, cloves, and cinnamon in a pan over a low heat.

Let it simmer until the apple is creamy and stir until the mixture is dry, being careful not to burn it.

Serve with the tenderloin slices.